Midnight's Café
A downloadable game for Windows, Mac OS X, and Linux
Synopsis:

In the 17th arrondissement of Paris, not far from the Monceau Park, a weird café lights up the street.
A few streets from there, another light is on, on the third floor of a building. Although it's becoming real late, Evelyn is too depressed to fall asleep.
To change her mood she decides to take a stroll in her neighbourhood. What will happen when she pushes the door of the small, weird café, a few streets afar?
---
Characters:
Evelyn is the 18-year-old main character. She lives alone in her little Parisian flat and is fed up with her eventless life.

With a bit of a cynical mind, she usually goes with the flow. The result is a never-ending unsatisfied feeling about the way her life is heading.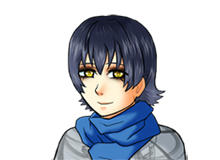 Mathieu is Evelyn's schoolmate and close friend.
Asmodée seems to be Mathieu's friend.
---
Credits:


Musics: Kevin McLeod, Audionautix
Team logo: Valentin Poinot
Special Thanks: Helianthus from Traümendes Mädchen
Made with Ren'py
---
Notes:

This is Hidden Masquerade first Visual-Novel. It was released in Janurary 2016.
The aim of this game was to set a minimum quality the team would stick with.
It contains 5 endings in total, 10 CG and 2 bonus stories.
If you ever need a walkthrough, you can find it here (under the spoiler).
Have a good game!
EDIT: the art assets are now CC-BY-NC-SA. Do not hesitate to download the file and use it for your own game, do read the terms of use though. Good luck if you're currently developing a game!
Install instructions
Choose the file you want to download according to your language.
Click to download the .zip file. Unzip it and then play! =)
If you have any issue playing the game, please do tell us.