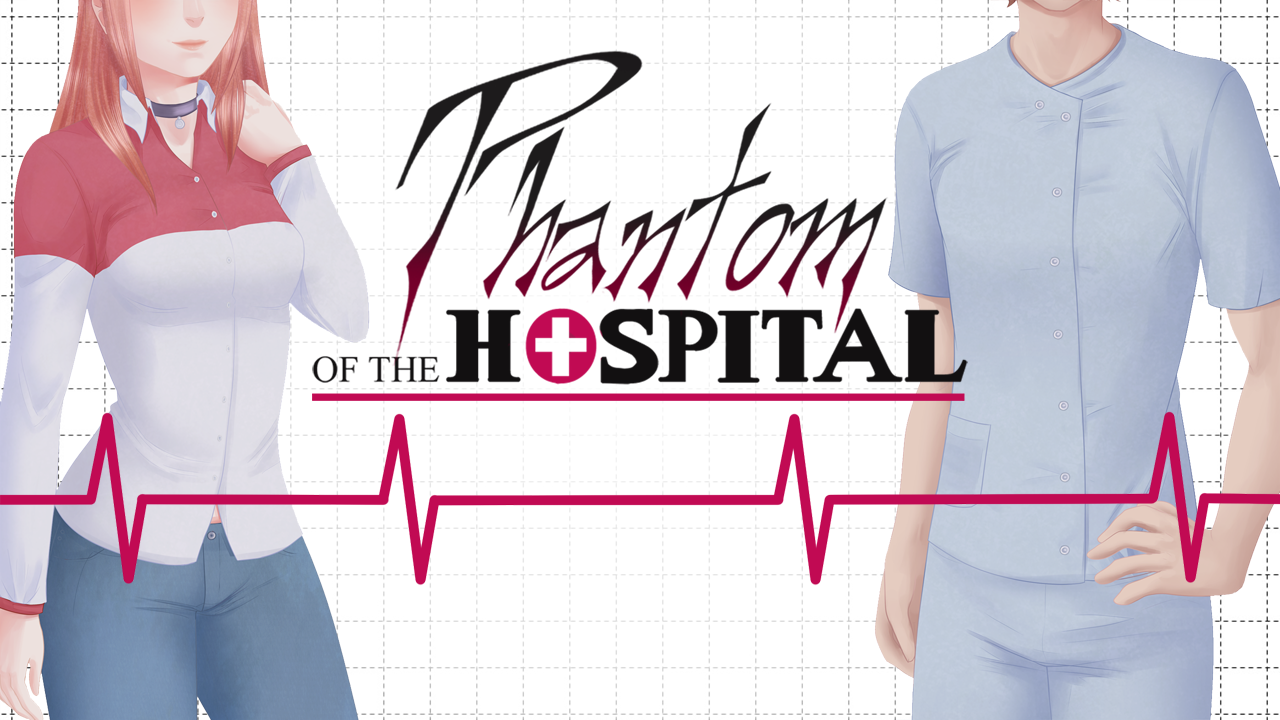 The Phantom of the Hospital
A downloadable game for Windows, macOS, and Linux

Synopsis

Helena has always justified her irresponsible life of partying with a smile and more beer. She wanted to live life to the fullest and not waste a single day on things she saw as "boring". One day, though, one glass too much gets her into the hospital where she enjoys the company of her overly caring best friend Mel and handsome but kind of mysterious young man Alex. She finds herself in an unexciting environment where, she feels trapped.
But, her boring nights become a bit more exciting when she hears a story of a ghost that roams the hospital in late hours…

Characters

Helena
Mel
Alex

Genres:

[GxG/B]
Comedy
Friendship
Romance

Features

Around 30 minutes of gameplay
2 CGs
2 endings, one with each character
This game was done for the 2016-NaNoRenO, so expect a short game

Authors notes

As it is our first NaNoReno, the game isn't very ambitious or pretentious, it's just meant to give you a good time!

Beware: may contain some mature jokes said in immature ways. Our characters are around 20~ after all....
EDIT 09-01-2016 : We've also released the art assets of the game under CC BY-NC-SA if you want them.

Credits

Main Artist: Didules
Writer: RockAn9el
Second writer/proofreader: Minilys
Install instructions
Click to download the ZIP.
Unzip and then play =)
Please do let us know if you find any typo or if it's not working!
Comments
Log in with itch.io to leave a comment.
Very nice game.
Nice backgrounds and girls look nice.
A bit short and linear but also very enjoyable :)
Thanks a lot for the kind words!! As the game was done in nearly 1 month, we didn't want to risk everything and make a game that would be too long, however you're right, not much happens XD Thanks a lot for the input!!
damm...dat nurse sure is creepy still nice game love it!!!
This game was really fun! I often found myself laughing at Helena and Alex's banter x'D Thanks for creating this funny game! ヽ(*´∇`)ノ
Anyway, I know that nurse was hiding something! xDD She's so creepy lol ʅ(´◔౪◔)ʃ
Thanks a lot for the nice comment!! (❁´▽`❁)*✲゚* And thank YOU for playing it!! :D
Also... The expressionless nurse sure is creepy, you're right XD But still we liked her nonetheless XP
It was fun! <3 Thanks a bunch for this!
I'm deeply sorry, however none of us speaks Portuguese in our team, so we cannot say if it'll ever be translated =/ We can only assure that it'll have a french version...
Thanks for asking nonetheless, it's a pleasure to read you'd like to see it in portuguese!
Hahaha, this game was super fun! ♥
I love both endings... but I still haven't figured out the meaning behind the postcredits scene. Hmmm...
Thanks a lot!! We're glad you had fun while playing =3 About the post-credit scene, well, all I can say is that a post-credit scene is meant to spoil the next game without having the player really understand what's going on? Haha, sorry if it seems way too obscure, actually it means we couldn't be clear enough >< All I can say, is that the nurse is looking at you 8)

So excited. *u*
-MimirollCookie